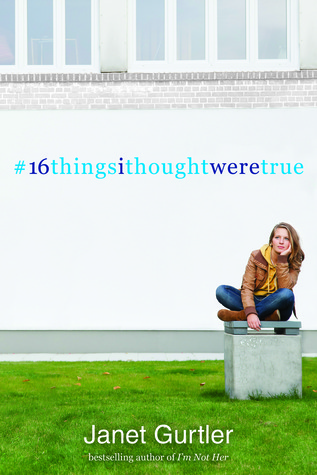 #16thingsithoughtweretrue by Janet Gurtler
Release Date
: March 4th, 2014 by
Sourcebooks Fire
Genre
: Young Adult > Contemporary
Source
: NetGalley (
Thanks NetGalley & Sourcebooks Fire!
)
Find It
: Amazon || GoodReads || B&N
Summary
:
Heart attacks happen to other people #thingsIthoughtweretrue

When Morgan's mom gets sick, it's hard not to panic. Without her mother, she would have no one—until she finds out the dad who walked out on her as a baby isn't as far away as she thought...

Adam is a stuck-up, uptight jerk #thingsIthoughtweretrue

Now that they have a summer job together, Morgan's getting to know the real Adam, and he's actually pretty sweet...in a nerdy-hot kind of way. He even offers to go with her to find her dad. Road trip, anyone?

5000 Twitter followers are all the friends I need #thingsIthoughtweretrue

With Adam in the back seat, a hyper chatterbox named Amy behind the wheel, and plenty of Cheetos to fuel their trip, Morgan feels ready for anything. She's not expecting a flat tire, a missed ferry, a fake girlfriend...and that these two people she barely knew before the summer started will become the people she can't imagine living without.
#16ThingsIThoughtWereTrue was nothing like I thought it would be. I'm starting to think Janet puts us with these super fun optimistic people only to shut us down in the end!
Morgan was raised by her single mother and her two older brothers. She gets a job at a local theme park but she's not really friends with anyone because her best friend posted an online video of her dancing in her underwear and I guess she lives in a town where people really care about that kind of stuff. Must be rough. Until one day she's eating lunch in the bathroom by herself and she runs into Amy from there, things kinda just... happen. Morgan's mother thinks she's dying after getting sick and being placed in the hospital for awhile and Morgan realizes that her day --- who she thought abandoned her --- isn't all that far away. So with her new best friend Amy and Adam who just won't go away, the three of them embark on an unexpected journey to find Morgan's dad.
Morgan was a character that was easy enough to relate to. Her mom hid some pretty serious stuff from here and while she had every right to be upset and not want to even with her mom, I think she overreacted a bit. Considering she's a teenager and she's going on this epic journey with two people who are brand new to her life... I mean if I was her parent I'd be like "HELL TO THE NO." There were times when Morgan just really really annoyed me. She was kinda flip floppy on what to do after meeting her dad and she kinda just seemed... all over the place. Which I guess is realistic for someone her age to discover all this stuff.
Amy was my favorite character. I loved her spirit and her optimism! But like I said, the author likes to shut us down in the end. And that's all I'm saying! I don't have much of an opinion on Adam, while he was there the whole trip I feel like Amy sometimes overshadowed him because I really don't remember much when it comes to Adam.
Overall while this was a pretty heavy read it was also fun and adventurous because of the road trip. I don't normally read road trip type of books... they kinda just don't really seem like my thing but I really enjoyed this one! Also, I really dug how a good portion of this book mentioned Twitter. It's always fun when modern technology is included in books.
Is anyone else like that? Like you think books are just stuck in this nonexistent time frame before technology sometimes?